From Monday 28 March 2022, face coverings will no longer be required by law in retail settings and on public transport, though they will continue to be recommended in public health advice.
And the requirement to self-isolate will also move into guidance.
From Monday 28th February 2022:
The change will mean people will no longer be legally required to wear face coverings in a range of indoor places, including cinemas, theatres, community centres, museums and gyms.
But face coverings will continue to be a legal requirement for adults and children aged 11 and over, unless exempt, in all retail settings, on public transport and in health and care settings.
On Friday 28 January 2022, Wales will complete the move to alert level zero. This means:
Nightclubs can re-open.
The general requirement of 2m social distancing in all premises open to the public and workplaces will be removed.
The rule of six will no longer apply to gatherings in regulated premises, such as hospitality, cinemas and theatres.
Licensed premises will no longer need to only provide table service and collect contact details. The Covid Pass will continue to be required to enter larger indoor events, nightclubs, cinemas, theatres and concert halls.
Working from home will remain important but it will no longer be a legal requirement.
Businesses, employers and other organisations must continue to undertake a specific coronavirus risk assessment and take reasonable measures to minimise the spread of coronavirus, which may include 2m social distancing or controlled entry.
Face-covering rules, which apply on public transport and in most public indoor places will remain in force after 28 January 2022, with the exception of hospitality settings such as restaurants, pubs, cafes and nightclubs.
Everyone must also continue to self-isolate if they test positive for coronavirus but the Welsh Government has reduced the self-isolation period from seven to five full days.
8th July: Happy to be able to display the VisitBritain 'We're Good to Go' Logo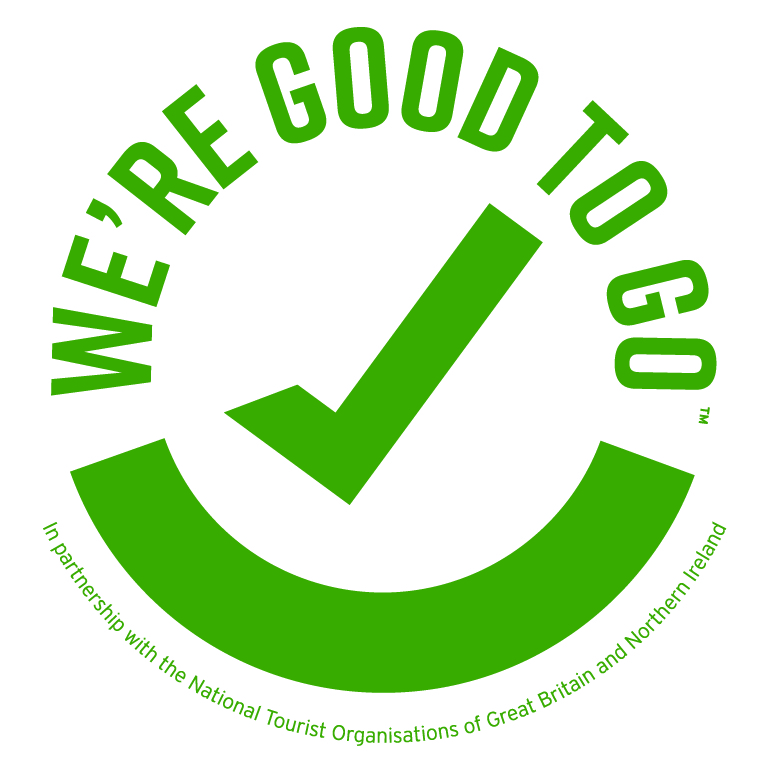 -------------------------------------------------------------------------------------------------------------------------------------------------------------------------------------------------------------------
The beauty of Winllan Farm is that all properties have space around them so social distancing is easy to achieve.
We have installed sanitiser points in all properties and communal areas and ensuring all touch points will be cleaned with anti bacterial and anti viral cleaners. Floors will be steam cleaned and bedding etc washed at high temperatures.   
In the meantime stay safe, and we will update this page with any important information regularly.
Take care all,
Claire and Andrea