11th September: new rules in place from 14th!
First Minister Mark Drakeford has set out changes to the coronavirus regulations in Wales announcing that people in Wales must wear face masks in shops and other indoor public spaces from Monday 14 September 2020, but they would not be mandatory in workplaces.
Indoor meetings of more than six from an extended household will be illegal from Monday 14 September 2020.
The rule will not apply to children under 11 and up to 30 people from different homes can still meet outside.
The new restriction will apply in pubs and restaurants, as well as private homes.
For further information please visit the GOV.Wales website.
13th August:  We have now been open for a little while and so far so good!!! Check in times have been amended to 4pm check in and 10am check out. This gives us time to ensure all the extra cleaning is completed.
We now use a fogging machine once the property is cleaned to ensure all areas are disinfected. The machine sprays a fine mist of disinfectant which covers all the hard to clean areas like curtains, carpets and sofas.
We have a drop box system working in the utility block which helps us to track games, books and DVDs that have been borrowed. These are all sanitised prior to going back on the shelf.
Hand gels and antibacterial wash are provided in all properties and communal areas.
11th July: Update on regulations for bookings**taken from PASC website**
WALES UPDATE AND OPENING
Hot off the Press and less than twelve hours before arrival…
8th July: Happy to be able to display the VisitBritain 'We're Good to Go' Logo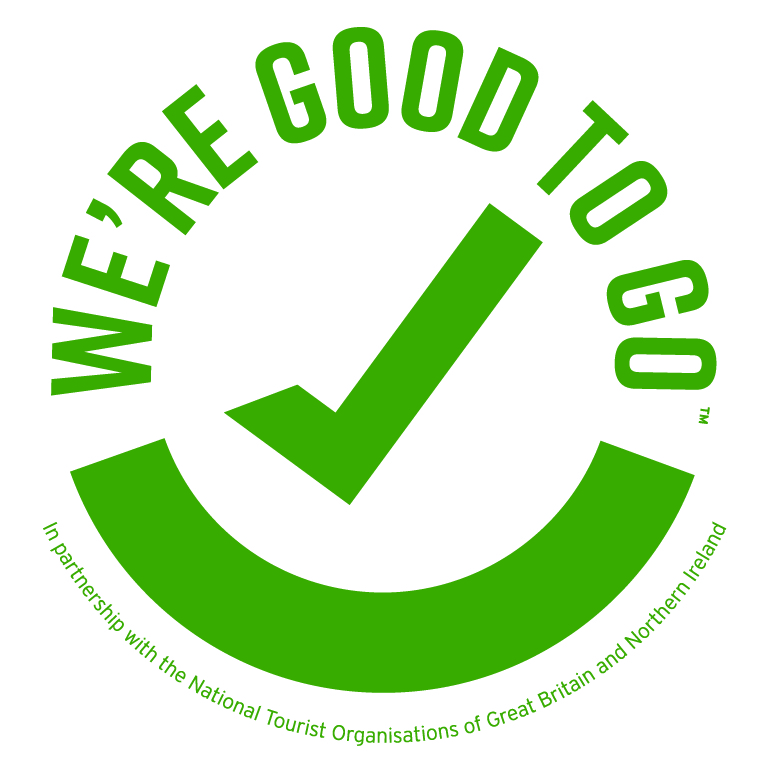 20th June 2020 - The Welsh government have given us a provisional date of 13th July to reopen and we are able to take bookings from this date. 
This date will be confirmed during subsequent briefings and in the meantime we are working with our local council and community to ensure we are ready and able to accept guests from this date. We will be offering the 'Book with confidence' promise for all new bookings.
We are currently looking at amending the arrival time from 3pm to 4pm to allow us that little extra time for cleaning and sanitising prior to new guest arrivals.
Some "nice to haves" will need to be removed such as dvd's and board games as these are not easy to clean. We are looking at alternative options such as a "touched box" where guests can deposit any touched item such as books, games etc that we can then remove from circulation for 72 hours to ensure they remain virus free.
We will be providing hand gel in all the communal touch point areas such as the utility block, dog paddock and refuge area.
The shower in the utility block will be for the moment for the use of the guests in Pod 2 only as every other property has use of a shower. 
The Summer House between the Pods may be closed or have restricted use depending on the numbers and groups of guests staying.
In the meantime, stay safe and we look forward to welcoming you all from July !!!!! 
---------------------------------------------------------------------------------------------------------------------------------------------------------------------------------------------------------------------
6th June 2020 - We remain closed until the end of the month but are hopeful the government will announce re-opening plans for July. Therefore we are accepting bookings but offering a "book with confidence" promise that if your booking is unable to go ahead due to lockdown and coronavirus restrictions we will transfer your date or offer a full refund on any monies paid. (this applies to new bookings only. For existing bookings we are contacting guests directly).
We remain in contact with the travel industry to ensure when we do open we are able to comply with all new regulations that may be put in place.
-------------------------------------------------------------------------------------------------------------------------------------------------------------------------------------------------------------------
We are currently closed due the Government lockdown and will remain so until lockdown is relaxed and we can start welcoming guests again.
In the meantime we are working hard here at Winllan Farm to ensure we will be ready to accept guests and will be able to ensure Social Distancing measures can be met and cleaning and sanitising standards comply with Government guidelines.
The beauty of Winllan Farm is that all properties have space around them so social distancing is easy to achieve.
We are installing sanitiser points in all properties and communal areas and ensuring all touch points will be cleaned with anti bacterial and anti viral cleaners. Floors will be steam cleaned and bedding etc washed at high temperatures. We will remove all communal 'niceties' such as board games, DVD's and books to help stop the spread of the virus. Our summer house will be restricted to use by our Pod guests only with regular cleaning undertaken inside.  
We have also been using this time to carry out maintenance on the properties where required so everything will be nice and fresh looking for when our guests can return!
We miss you all and are looking forward to welcoming you all back as soon as we are able.
In the meantime stay safe, and we will update this page with any important information regularly.
Take care all,
Claire and Andrea